Our latest release is packed full of features designed to optimize your schools' Vivi experience, by giving you greater control in configuring our solution to your school's needs and network.
Here's what you need to know about Vivi 2.0:
Unlimited Location Hierarchies
In the Admin Portal, you now have the option to build an unlimited number of location hierarchies for your Vivi-enabled rooms. You can choose how you want to name, order and group the rooms, allowing flexibility for campuses, buildings, grade levels, etc.
Enhanced Emergency Broadcast System Features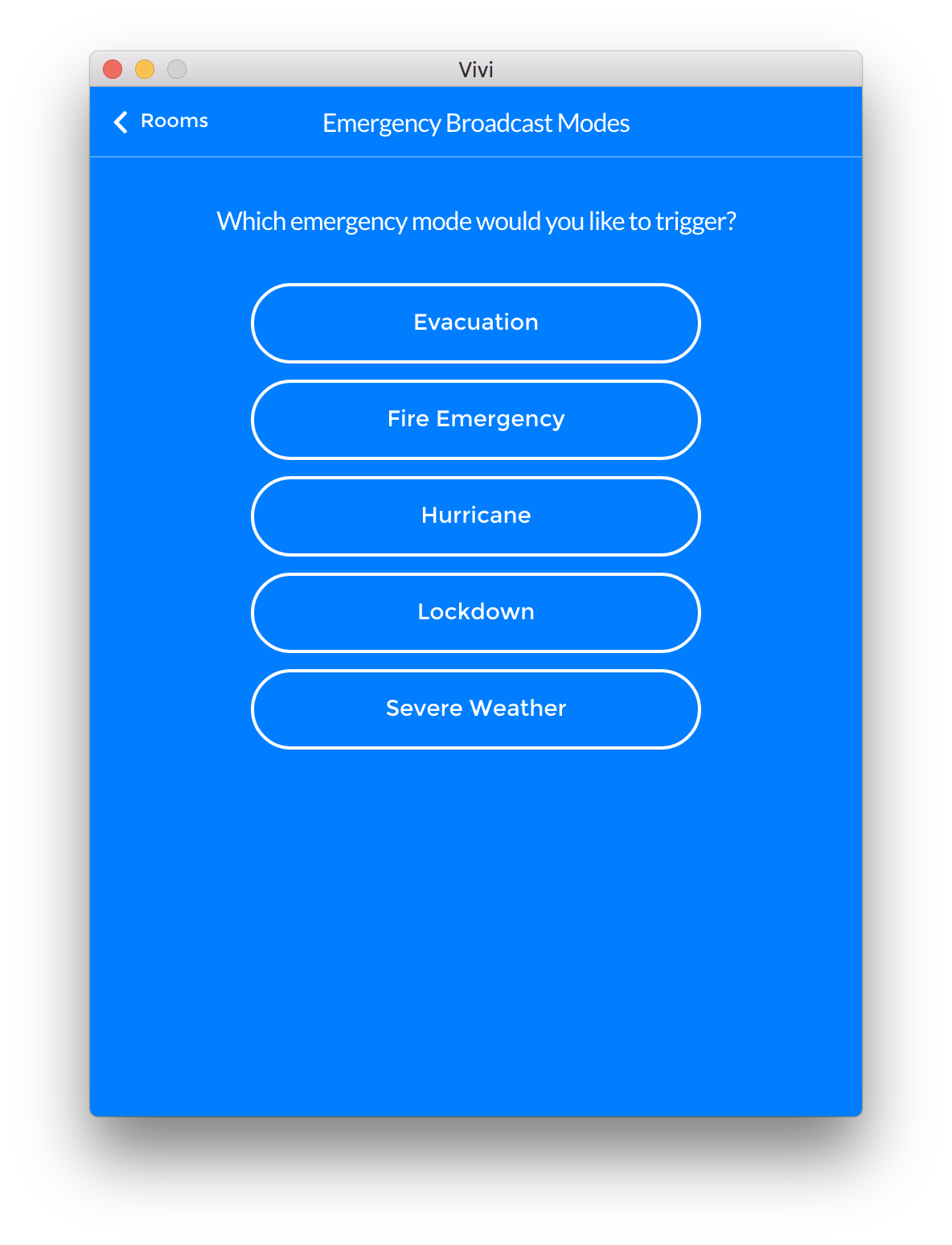 The release of 2.0 also comes with enhancements to our Emergency Broadcast feature, designed for increased responsiveness in the event of an emergency. These include:
Custom Emergency Types; customize the types of emergencies that are available to be triggered from the Vivi App, so that emergency notifications are relevant to your specific context.
SMS Emergency Notifications; nominate up to ten Emergency Wardens to receive SMS alerts when an emergency has been triggered, giving them in-the-moment access to information and improving their responsiveness.
Real-time Website Display
Websites used as media in our Digital Signage feature will now be rendered locally, from the Vivi Receiver, to enable them to be displayed in real time. This means that dynamic content, such as in-the-moment metrics or a timepiece, can be effectively used as signage. Note that this only works for websites that are not password protected.
Expanded settings for video performance
Our new Video Encoding Controls and Settings feature is designed to give you greater control over the quality of video performance by allowing you to adjust the settings to match your network and device capabilities. Resolution, frame rate and stream quality can now be adjusted from within the Vivi App and defaults and maximums can be set from within the Admin Portal.
Easy creation of USBs with the Vivi App
We have now provided an even quicker way for you to generate a USB loaded with the portable version of the Vivi App, from an IMG file available on our website. Having a USB loaded with the Vivi App is the perfect way to provide quick access for guests who are unable to download the App due to security controls on their device.
You can find the downloadable version here.
More Administration Options
We understand that you need reliability, automation and ease of use when it comes to managing the technology in your school. Through the Admin Portal you can now:
Disable Vivi Receiver Wireless Access Points; the Vivi Receiver wireless access points that are broadcast during their start up can now be disabled across your fleet, to prevent a clutter of wireless networks appearing.
Schedule Restarts of Vivi Receivers; allows you to schedule restarts of your Receiver fleet.
Establish Dynamic Receiver Hostnames; the Vivi Receiver hostname is now set to the name of its assigned room, for improved visibility and management on your network.