Vivi is loaded with instructional tools and features for teachers. Our training levels help you learn about how to get the most from your Vivi and enhance communication, connection and collaboration in the classroom
Level up training WEBINARS FOR TEACHERS
Level Up with Vivi in the Classroom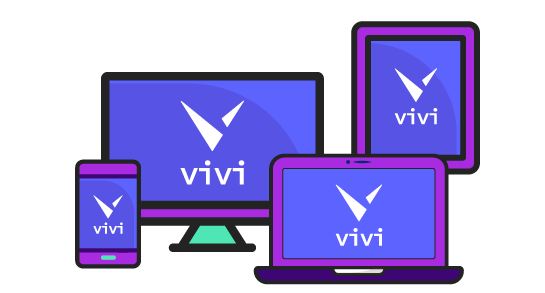 Level 1 Webinar: Share Screen
Join us for a live webinar experience for Vivi Level training for the classroom! After completing Level 1 training, teachers will be able to use basic Vivi features to interact with and share their screen wirelessly -- no cords, cables, or wires required.
Level 2 Webinar: Increase Teacher Capacity
Join us for a webinar showcasing the second level in the Vivi training series. After completing Level 2 training, Vivi educators will be able to leverage specific Vivi features to save time, multi-task, and build their overall capacity throughout the instructional day by strategically using their Vivi dashboard.
Level 3 Webinar: Increase Teacher and Student Engagement
This webinar will showcase how to launch the Vivi student app and empower students to share their screens in order to increase engagement, and collaboration, collect meaningful data; and offer students the opportunity to interact with content in impactful ways.
Level 4 Webinar: Flexible Learning
Join us for the final installment of Vivi Level training focused on flexible learning. After completing Level 4 training, Vivi educators will be able to leverage Vivi instructional tools to support a more learner-led, whole-child, and flexible approach to learning by collecting meaningful data around SEL needs, supporting identified needs in the moment, and managing flexible learning environments by offering "anytime-anywhere" connection between teacher and student.
UPCOMING WEBINARS FOR IT ADMINISTRATORS
Vivi Digital Signage & Emergencies
Learn more about Vivi's digital signage and emergency features and how they can be used within your school.
More webinars coming soon...
We are thrilled to announce that Vivi has won the Tech & Learning Award of Excellence: Back to School 2023 in both the Primary and Secondary Education categories. These awards are presented by Tech & Learning, a leading resource for K-12 education technology. 
Read More