Vivi, the all-in-one student engagement & digital signage solution, transforms any room with a display into a dynamic and collaborative learning space. 
Dynamic & Collaborative Learning Spaces
Using Vivi's real-time tools, teachers can easily share content, give control to students, send assessments & messages and display student screens to the whole class simultaneously to engage and encourage student collaboration, all whilst providing teachers full device access.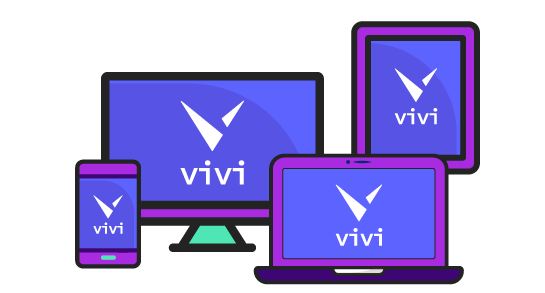 Compatible with Your Existing Devices
Vivi connects all your existing devices together. From front-of-screen devices such as interactive whiteboards, TVs and projectors, to the laptops, Macs, Chromebooks or iPads your students are using, Vivi encourages collaboration on any device in the classroom.
Support Student Engagement & Wellbeing
Students can actively engage with learning content using Vivi. Easily screenshot, annotate, move and colour digital notes and save them to reflect on during revision. Teachers can also get quick insights into each student's wellbeing using discrete emoji polls sent at the beginning of each day or lesson. 
Designed for education, our simple-to-use digital signage feature turns every display into a school-wide communication tool, whether that's live broadcasts, emergency notifications or showcasing students' exemplary work, Vivi shows your messages on one, many or all displays.   
What does a Vivi-fied classroom look like?
Unlike a classroom management solution that helps teachers manage devices in a classroom, Vivi transforms any room with a display into a flexible, student-centric learning environment where:
The teacher is untethered from front-of-class learning to interact with students freely, whilst still maintaining access to simple-to-use tools that just work!
Students are encouraged to actively engage with and discuss content collaboratively or independently
Students are focused, motivated and creative in every lesson using the device of their choice
We're in 60,000 classrooms just like yours.
Your needs are our priorities.
Vivi is designed specifically for schools. We work with our Educator Council and those who are currently teaching in the classroom to understand your changing needs and demands. Our team is here to support you every step of the way to help you seamlessly join the 60,000 that are already transforming learning with Vivi.