Wireless screen sharing designed for schools.
Vivi, the all-in-one solution for digital signage and wireless screen sharing for schools, provides a cost-effective way to streamline and enhance digital learning using the technology you already have!
With Vivi, teachers can wirelessly deliver learning content, give control to students and display up to 4 student screens simultaneously to actively engage students and increase student collaboration. 
Interactive & Engaging Lessons
Students have an active role in their learning with tools such as virtual whiteboard, screen sharing, screenshot, annotate and more! Teachers can quickly and discreetly collect feedback on topic understanding with real-time assessments.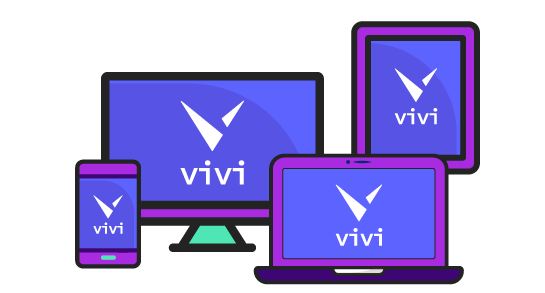 Compatible with Your Existing Devices
Vivi connects all your existing devices together. From front-of-screen devices such as interactive whiteboards, TVs and projectors, to the laptops, Macs, Chromebooks or iPads your students are using.
What does a Vivi-fied classroom look like?
Unlike classroom management solutions, Vivi does not control digital learning, it transforms and enhances digital learning, where any room with a display is interactive, collaborative and a student-centric learning environment where:
The teacher is untethered from front-of-class learning to interact with students freely, whilst still maintaining access to front-of-class display and student devices!
Students can actively engage, interact and discuss content collaboratively or independently
Students are motivated and encourage to be creative in every lesson using the device of their choice
We're in 80,000 classrooms just like yours.
Your needs are our priorities.
Vivi is designed specifically for schools. We work with our Educator Council and those who are currently teaching in the classroom to understand your changing needs and demands. Our team is here to support you every step of the way to help you seamlessly join the 80,000 that are already transforming learning with Vivi.